Details:
Edit
Alliance Mail is sent in the Alliance Depot.
Alliance Mail is located in the bottem left corner of the alliance screen.You must be in an alliance to use it.
Alliance Mail has many uses, such as: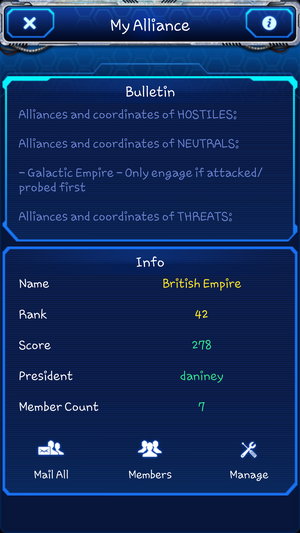 1.
Rank Check (RC)
Rank check is used to check the rank of a player. You simply type in the player's name like this: [gazelle].  It reccomend to type RC in the subject.
2. Planet check (PC) 
Planet check is usd to check the size of a planet. You type the coordinates of the planet like this: [1:1:1] [1:1:2] [1:1:3] etc.
3. Alerts/Info: such as war, new allies, new rules, etc.

As you can see, Alliance Mail is a very valuable tool in Galaxy Empire.
I do think this will work on the Android version.
Community content is available under
CC-BY-SA
unless otherwise noted.