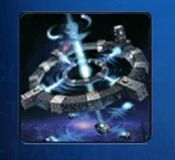 The Anti-Gravity Tech is required to construct Pioneer Lab.
Upgrading the Anti-Gravity Tech also reduces Pioneer Lab contruction or upgrade time by 2% per level.
Building Requirements: Research Lab Level 8.
Tech Requirements: Laser Tech Level 10. Hyperspace Tech Level 7. Impulse Drive Level 6.
The Anti-Gravity Tech requires all resources in order to upgrade.
| Level | | | |
| --- | --- | --- | --- |
| 1 | 140k | 111k | 87700 |
| 2 | 196k | 154k | 118k |
| 3 | 274k | 214k | 159k |
| 4 | 384k | 296k | 215k |
| 5 | 537k | 415k | 291k |
| 6 | 752k | 577k | 393k |
| 7 | 1.05M | 802k | 531k |
| 8 | 1.47M | 1.11M | 717k |
| 9 | 2.09M | 1.54M | 968k |
| 10 | 2.89M | 2.15M | 1.3M |
| 11 | 4.04M | 2.99M | 1.76M |
| 12 | 5.66M | 4.16M | 2.38M |
| 13 | 7.93M | 5.78M | 3.21M |
| 14 | 11.1M | 8.04M | 4.34M |
| 15 | 15.5M | 11.1M | 5.86M |
| 16 | 21.7M | 15.5M | 7.91M |
| 17 | 30.5M | 21.6M | 10.7M |
| 18 | 42.7M | 30.0M | 14.4M |
| 19 | | | |
| 20 | | | |
| 21 | | | |
| 22 | | | |
| 23 | | | |
| 24 | 321M | 216M | 87.3M |
| 25 | | | |
Research Time
Edit
Rows: Goal Technology Level 
Columns: Reaserch Lab Level
Result: Reaserch Time
Reaserch Time for each Technology Level (T) for each Reaserch Lab Level (L)
L8
9
10
11
12
13
14
15
16
17
18
19
20
21
22
23
24
25
T1
2h 18m 5s
2
3
4
5
6
7
8
9
10
11
12
13
14
15
16
17
18
19
20
21
22
23
24
25
Time to Research
Edit
The time to build formula is: