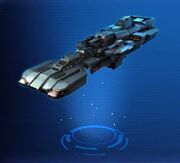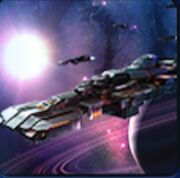 The Battleship is an advanced ship
Many people build these even in the later stages in the game, as they have a high attack. However, the Dreadnought is designed to destroy Battleships, so they will need protection from other ships to be able to efficiently engage Dreadnoughts.
The Battleship is the hulking behemoth that war-loving colonies across the solar system covet.
Only a very well-appointed adversary will be capable of threatening a battle fleet occupied by Battleships.
Make sure that your Battleships are accompanied by other ships to protect them as they're costly and extremely valuable.
Building Requirements: Shipyard Level 7.
Tech Requirements: Hyperspace Drive Level 4.
Gas is not required to build the Battleship.
Costs to build one Battleship

| Combat Ship | | | Points |
| --- | --- | --- | --- |
| Battleship | 45000 | 15000 | 60 |
Battleship Info

| Item | Amount |
| --- | --- |
| Armor | 6000 |
| Energy Shield | 200 |
| Attack | 1000 |
| Speed | 10000 |
| Cargo Capacity | 1500 Units |
| Fuel Usage (Gas) | 500 |