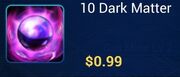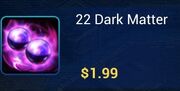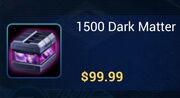 Details:
Edit
Dark Matter can help the player advance quickly.
You can use and buy it at the Space Store.
You can also find it by exploring the Mysterious Nebula, but this is rare.
Dark Matter can speed up upgrades or construction by 15 minutes each.
A one day upgrade takes 96 Dark Matter to complete.
An easy way to get dark matter is to attack the Dwarf Star Fortress. You can attack it 3 times a day to get 150 dark matter. Sending between 100-150 Iron Behemoths (Depends on your tech levels) will result in no losses, or use 1 reaper.
Sources of Dark Matter:
Purchase in shop with Credits
Exploring the Mysterious Nebula
Completing the introductory missions.
Attacking and winning the dwarf star fortress will give you 50 dark matter.
Dark Matter can be used to:
Community content is available under
CC-BY-SA
unless otherwise noted.