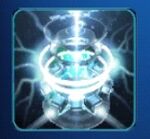 Details:
[
]
Advanced Energy Tech allows you to increase you energy effciency.
This will allow you to reach high levels of buildings and fleet construction.
Harnessing the power of Energy Tech will help you feed the demanding energy that resource mines and other facilities use.
Building Requirements: Research Lab Level 1
Energy Tech does not require metal to upgrade.
As of update 1.1 Energy Tech affects the Fusion Reactor making it significantly better.
Costs to Upgrade Energy Tech

[

]
| Level | | |
| --- | --- | --- |
| 1 | 800 | 400 |
| 2 | 1,600 | 800 |
| 3 | 3,200 | 1,600 |
| 4 | 6,400 | 3,200 |
| 5 | 12,800 | 6,400 |
| 6 | 25K | 12,800 |
| 7 | 51K | 25K |
| 8 | 102K | 51K |
| 9 | 204K | 102K |
| 10 | 409K | 204K |
| 11 | 819K | 409K |
| 12 | 1.,63M | 819K |
| 13 | 3.27M | 1.63M |
| 14 | 6.55M | 3.27M |
| 15 | 13.1M | 6.55M |
| 17 | 52.4M | 26.2M |
| 18 | 104.8M | 52.4M |
| 19 | 209.7M | 104.8M |
| 20 | 419.4M | 209.7M |
| 21 | 838.8M | 419.4M |
| 22 | 1.68B | 838.8M |
| 23 | 3.36B | 1.68B |
| 24 | 6.71B | 3.36B |
| 25 | 13.5B | 6.71B |
Research Time
[
]
Rows: Goal Technology Level 
Columns: Reaserch Lab Level
Result: Reaserch Time
Reaserch Time for each Technology Level (T) for each Reaserch Lab Level (L)

| | L1 | 2 | 3 | 4 | 5 | 6 | 7 | 8 | 9 | 10 | 11 | 12 | 13 | 14 | 15 | 16 | 17 | 18 | 19 | 20 | 21 | 22 | 23 | 24 | 25 |
| --- | --- | --- | --- | --- | --- | --- | --- | --- | --- | --- | --- | --- | --- | --- | --- | --- | --- | --- | --- | --- | --- | --- | --- | --- | --- |
| T1 | | | | | | | | | | | | | | | | | | | | | | | | | |
| 2 | | | | | | | | | | | | | | | | | | | | | | | | | |
| 3 | | | | | | | | | | | | | | | | | | | | | | | | | |
| 4 | 48m | 24m | 16m | 9m 36s | 8m | 6m 51s | | | | | | | | | | | | | | | | | | | |
| 5 | | | 24m | | | 13m 42s | | | | | | | | | | | | | | | | | | | |
| 6 | | | | | 32m | 27m 25s | | | | | | | | | | | | | | | | | | | |
| 7 | | | | | | | | | | | | | | | | | | | | | | | | | |
| 8 | | | | | | | | | | | | | | | | | | | | | | | | | |
| 9 | | | | | | | | | | | | | | | | | | | | | | | | | |
| 10 | | | | | | | | | | | | | | | | | | | | | | | | | |
| 11 | | | | | | | | | | | | | | | | | | | | | | | | | |
| 12 | | | | | | | | | | | | | | | | | | | | | | | | | |
| 13 | | | | | | | | | | | | | | | | | | | | | | | | | |
| 14 | | | | | | | | | | | | | | | | | | | | | | | | | |
| 15 | | | | | | | | | | | | | | | | | | | | | | | | | |
| 16 | | | | | | | | | | | | | | | | | | | | | | | | | |
| 17 | | | | | | | | | | | | | | | | | | | | | | | | | |
| 18 | | | | | | | | | | | | | | | | | | | | | | | | | |
| 19 | | | | | | | | | | | | | | | | | | | | | | | | | |
| 20 | | | | | | | | | | | | | | | | | | | | | | | | | |
| 21 | | | | | | | | | | | | | | | | | | | | | | | | | |
| 22 | | | | | | | | | | | | | | | | | | | | | | | | | |
| 23 | | | | | | | | | | | | | | | | | | | | | | | | | |
| 24 | | | | | | | | | | | | | | | | | | | | | | | | | |
| 25 | | | | | | | | | | | | | | | | | | | | | | | | | |
Formulas
[
]
Time to Research
[
]
The time to build formula is: