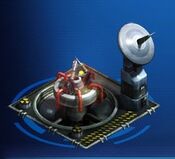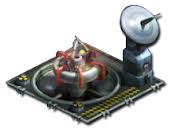 Power output is affected by Energy Tech (you are likely to see deviations from this table).
The Numbers in the table are estimates based on what players have actually seen for their planets.  However, please note that Energy Output may also be impacted by other factors.
Building Requirements: Gas Mine Level 5.
Tech Requirements: Energy Tech Level 3.
Costs to build the Fusion Reactor

| Level | | | | Output/Hr |
| --- | --- | --- | --- | --- |
| 1 | 900 | 360 | 180 | *See table Below for Output per Hour |
| 2 | 1620 | 648 | 324 | |
| 3 | 2916 | 1166 | 583 | |
| 4 | 5248 | 2099 | 1049 | |
| 5 | 9447 | 3779 | 1889 | |
| 6 | 17006 | 6802 | 3401 | |
| 7 | 30611 | 12244 | 6122 | |
| 8 | 55099 | 22039 | 11019 | |
| 9 | 99179 | 39671 | 19835 | |
| 10 | 178K | 71409 | 35704 | |
| 11 | 321k | 128k | 64268 | |
| 12 | 578k | 231k | 115k | |
| 13 | 1.04M | 416k | 208k | |
| 14 | 1.87M | 749K | 374K | |
| 15 | 3.37M | 1.34M | 674K | |
| 16 | 6.07M | 2.42M | 1.21M | |
| 17 | 10.9M | 4.37M | 2.18M | |
| 18 | 19.6M | 7.86M | 3.93M | |
| 19 | 35.4M | 14.1M | 7.08M | |
| 20 | 63.7M | 25.4M | 12.7M | |
| 21 | 115M | 45.8M | 22.9M | |
| 22 | 207M | 82.6M | 41.3M | |
| 23 | 372M | 149M | 74.3M | |
| 24 | 669M | 267M | 133M | |
| 25 | 1.20B | 482M | 241M | |
Energy Production Grid:
Edit
Rows: Fusion Reactor Level
Columns: Energy Tech Level
Result: Energy Production
Energy Output per Reactor Size and Tech Rating

| | T0 | 1 | 2 | 3 | 4 | 5 | 6 | 7 | 8 | 9 | 10 | 11 | 12 | 13 | 14 | 15 | 16 | 17 | 18 | 19 | 20 | 21 | 22 | 23 | 24 | 25 |
| --- | --- | --- | --- | --- | --- | --- | --- | --- | --- | --- | --- | --- | --- | --- | --- | --- | --- | --- | --- | --- | --- | --- | --- | --- | --- | --- |
| R1 | | | | 35 | | 38 | | | | 47 | | | | 48 | | | | | | | | | | | | |
| 2 | | | | 72 | 75 | 77 | 79 | | | 95 | | | | 96 | | | | | | | | | | | | |
| 3 | | | | 116 | | 124 | | | | 156 | | | | | | | | | | | | | | | | |
| 4 | | | | 166 | | | | | | 232 | 219 | | | | | | | | | | | | | | | |
| 5 | | | | 223 | | 246 | | | | 327 | | | | | | | | | | | | | | | | |
| 6 | | | | 288 | | | | | | 444 | | | | | | | | | | | | | | | | |
| 7 | | | | 362 | 387 | 414 | | | 502 | 587 | | | | | | | | | | | | | | | | |
| 8 | | | | 447 | 482 | 519 | 559 | 601 | 646 | 693 | | | | | | | | | | | | | | | | |
| 9 | | | | | | | | 755 | 819 | 887 | 959 | | | | 1436 | | | | | | | | | | | |
| 10 | | | | | | | | 938 | | 1121 | 1223 | | | | | | | | | | | | | | | |
| 11 | | | | | | | | | | 1544 | | | | | | | | | | | | | | | | |
| 12 | | | | | | | | 1409 | 1568 | 1917 | | | | | | | | | | | | | | | | |
| 13 | | | | | | | | | | 2366 | | | | | | | | | | | | | | | | |
| 14 | | | | | | | | | | 2902 | 3279 | 3702 | 4174 | 4702 | 5291 | | | | | | | | | | | |
| 15 | | | | | | | | | | 3543 | 4038 | 4598 | 5229 | 5941 | 6742 | | | | | | | | | | | |
| 16 | | | | | | | | | | | | 5687 | 6523 | 7474 | 8553 | | | | | | | | | | | |
| 17 | | | | | | | | | | | | | | 8515 | 10k | | | | | | | | | | | |
| 18 | | | | | | | | | | | | | | 10k | 13k | | | | | | | | | | | |
| 19 | | | | | | | | | | | | | | 13k | 17k | | | | 32k | | | | | | | |
| 20 | | | | | | | | | | | | | | | | | | | 41k | | | | | | | |
| 21 | | | | | | | | | | | | | | | | | | | 53k | | | | | | | |
| 22 | | | | | | | | | | | | | | | | | | | | | | | | | | |
| 23 | | | | | | | | | | | | | | | | | | | | | | | | | | |
| 24 | | | | | | | | | | | | | | | | | | | | 97K | | | | | | |
| 25 | | | | | | | | | | | | | | | | | | | | | | | | | | |
Build / Upgrade Time
Edit
Rows: Goal Upgrade Level
Columns: Robotics Facility Level
Result: Upgrade Time
Note: Times recorded using a Commander Lv1. which confers a construction time -10%
Time for each Upgrade Level (U) for each Robotics Facility Level (R)

| | R0 | 1 | 2 | 3 | 4 | 5 | 6 | 7 | 8 | 9 | 10 | 11 | 12 | 13 | 14 | 15 | 16 | 17 | 18 | 19 | 20 | 21 | 22 | 23 | 24 | 25 |
| --- | --- | --- | --- | --- | --- | --- | --- | --- | --- | --- | --- | --- | --- | --- | --- | --- | --- | --- | --- | --- | --- | --- | --- | --- | --- | --- |
| U1 | | 5s | 5s | 5s | 5s | | | | | | | | | | | | | | | | | | | | | |
| 2 | | | | | 15s | | | | | | | | | | | | | | | | | | | | | |
| 3 | | | 7m 20s | | 4m 23s | | | | | | | | | | | | | | | | | | | | | |
| 4 | | | 13m 12s | | | | | | | | | | | | | | | | | | | | | | | |
| 5 | | | 23m 48s | | | | | | | | | | | | | | | | | | | | | | | |
| 6 | | | | | 25m 42s | | | 16m 3s | | | | | | | | | | | | | | | | | | |
| 7 | | | | | | 38m 33s | | | | | | | | | | | | | | | | | | | | |
| 8 | | | | | | | | 52m 3s | | | | | | | | | | | | | | | | | | |
| 9 | | | | | | | | 1h 33m 43s | | | | | | | | | | | | | | | | | | |
| 10 | | | | | | | | | | | | | | | | | | | | | | | | | | |
| 11 | | | | | | | | | | | | | | | | | | | | | | | | | | |
| 12 | | | | | | | | | | | | | | | | | | | | | | | | | | |
| 13 | | | | | | | | | | | | | | | | | | | | | | | | | | |
| 14 | | | | | | | | | | | | | | | | | | | | | | | | | | |
| 15 | | | | | | | | | | | | | | | | | | | | | | | | | | |
| 16 | | | | | | | | | | | | | | | | | | | | | | | | | | |
| 17 | | | | | | | | | | | | | | | | | | | | | | | | | | |
| 18 | | | | | | | | | | | | | | | | | | | | | | | | | | |
| 19 | | | | | | | | | | | | | | | | | | | | | | | | | | |
| 20 | | | | | | | | | | | | | | | | | | | | | | | | | | |
| 21 | | | | | | | | | | | | | | | | | | | | | | | | | | |
| 22 | | | | | | | | | | | | | | | | | | | | | | | | | | |
| 23 | | | | | | | | | | | | | | | | | | | | | | | | | | |
| 24 | | | | | | | | | | | | | | | | | | | | | | | | | | |
| 25 | | | | | | | | | | | | | | | | | | | | | | | | | | |
Time to Build
Edit
The time to build formula is:
$ t=(1-d)\cdot \frac { A }{ (r+1) } \cdot { e }^{ B\cdot l } $
with the following variables:
t = time [seconds]
d = Bonus Discount [%]
r = Robotics Facility Level
l = Upgrade Level
And the following constants
As derived from the following Equations:
Solve for B
$ B\quad =\quad \frac { \ln { \left( \frac { { t }_{ 2 }({ r }_{ 2 }+1)(1-{ d }_{ 1 }) }{ { t }_{ 1 }(1-{ d }_{ 2 })({ r }_{ 1 }+1) } \right) } }{ \left( { l }_{ 2 }-{ l }_{ 1 } \right) } $
And Solve for Constant A
$ A=\frac { t(r+1) }{ { e }^{ Bl }(1-d) } $
A = Constant = 251.240328234283
B = Constant = 0.588112522398604