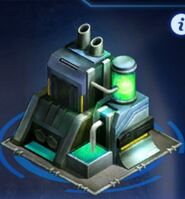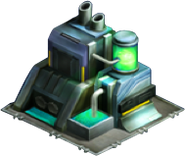 Gas is collected and then processed at the Gas Mine in your colony.
Gathered from gas deposits leading deep within your planet's core, gas is rare and upgrading your Gas Mine to increase production rate is recommened.
If your storage capacity is overwhelmed, gas production will temporarily cease.
Gas production vary linearly according to the planet temperature, so it is important to take the planet temperature into account when collecting the production figures.
Linear coefficient and origin value grows with the Gas Mine level, so that the temperature variation is much more important at high Gas Mine level.
Gas production is depended on your planet's location.
A planet closer to the star will get less gas production, while planets more far away will get a bonus to production.
Note the chat for production should be used as an estimate.
Your planets production will be 25% more or less depending on location.
Gas is not required to build the Gas Mine.
With Galactonite, Official Rank and other variables the output per hour can not be accurately determined.
| Level | | | Output/Hr | | A.E.R* |
| --- | --- | --- | --- | --- | --- |
|  1 | 225 | 75 | 79 | 11 | 11 |
| 2 | 337 | 112 | 175 | 26 | 37 |
| 3 | 506 | 168 | 290 | 31 | 68 |
| 4 | 759 | 253 | 425 | 37 | 105 |
| 5 | 1,139 | 379 | 585 | 43 | 148 |
| 6 | 1,708 | 569 | 772 | 51 | 199 |
| 7 | 2,562 | 854 | 991 | 60 | 259 |
| 8 | 3,844 | 1,281 | 888 | 70 | 329 |
| 9 | 5,766 | 1,922 | 1,342 | 81 | 410 |
| 10 | 8,649 | 2,883 | 1,531 | 94 | 504 |
| 11 | 12,974 | 4,324 | 1,853 | 108 | 612 |
| 12 | 19,461 | 6,487 | 1,491 - 2,223 | 125 | 737 |
| 13 | 29,192 | 9,730 | 3,264 | 144 | 881 |
| 14 | 43,789 | 14,596 | 3,864 | 165 | 1,046 |
| 15 | 65,684 | 21,894 | 2,872 - 4,554 | 189 | 1,235 |
| 16 | 98,526 | 32,842 | 4,858 | 217 | 1,452 |
| 17 | 147,789 | 49,263 | 5,678 | 248 | 1,700 |
| 18 | 221,683 | 73,894 | 6,613 | 283 | 1,983 |
| 19 | 3325,25 | 110,841 | 7,756 | 322 | 2,305 |
| 20 | 498K | 166K | 8,892 | | 2,690 |
| 21 | 748,182 | 249,394 | | 417 | |
| 22 | 1.12M | 374K | | | 3581 |
| 23 | 1.68M | 561K | | 537 | 4118 |
| 24 | 2.52M | 842K | | 608 | 4727 |
| 25 | 3.78M | 1.26M | | 689 | |
| 26 | 5.68M | 1.89M | | | |
| 27 | 8.52M | 2.84M | | | |
| 28 | 12.7M | 4.26M | | | |
| 29 | 19.1M | 6.39M | | | |
| 30 | 28.8M | 9.58M | | | |
| 31 | 43.1M | 14.3M | | | |
| 32 | 64.7M | 21.6M | | | |
| 33 | 97.1M | 32.4M | | | |
| 34 | 146M | 48.5M | | | |
| 35 | 218M | 72.8M | | | |
| 36 | 329M | 109M | | | |
| 37 | 491M | 164M | | 3264 | |
| 38 | 737M | 246M | | | |
| 39 | 1.11B | 369M | | | |
| 40 | 1.66B | 553M | | | |
| 41 | 2.49B | 829M | | | |
| 42  | 3.73B | 1.24B | | | |
| 43 | 5.60B | 1.87B | | | |
| 44 | 8.40B  | 2.80B | | | |
| 45 | 12.6B | 4.20B | | | |
| 46 | | | | | |
| 47 | 28.3B | 9.45B | | | |
| 48 | | | | | |
| 49 | | | | | |
| 50 | | | | | |
Build / Upgrade Time
Edit
Accumulated Energy Requuirements
Rows: Goal Upgrade Level
Columns: Robotics Facility Level
Result: Upgrade Time
Note: Times recorded using a Commander Lv1. which confers a construction time -10%
Time for each Upgrade Level (U) for each Robotics Facility Level (R)

| | R0 | 1 | 2 | 3 | 4 | 5 | 6 | 7 | 8 | 9 | 10 | 11 | 12 | 13 | 14 | 15 | 16 | 17 | 18 | 19 | 20 | 21 | 22 | 23 | 24 | 25 |
| --- | --- | --- | --- | --- | --- | --- | --- | --- | --- | --- | --- | --- | --- | --- | --- | --- | --- | --- | --- | --- | --- | --- | --- | --- | --- | --- |
| U1 | | | | | | | | | | | | | | | | | | | | | | | | | | |
| 2 | | | | | | | | | | | | | | | | | | | | | | | | | | |
| 3 | 3m 37s | | | | | | | | | | | | | | | | | | | | | | | | | |
| 4 | 5m 27s | | | | | | | | | | | | | | | | | | | | | | | | | |
| 5 | 8m 11s | | 2m 43s | | | | | | | | | | | | | | | | | | | | | | | |
| 6 | 12m 17s | | 4m 5s | 3m 3s | 2m 26s | | | | | | | | | | | | | | | | | | | | | |
| 7 | 18m 26s | | | | | 3m 3s | | | | | | | | | | | | | | | | | | | | |
| 8 | 27m 39s | 13m 49s | 9m 13s | 6m 54s | 5m 32s | | | | | | | | | | | | | | | | | | | | | |
| 9 | | | | | 8m 17s | | | | | | | | | | | | | | | | | | | | | |
| 10 | | | | | 12m 27s | | | 7m 46s | | | | | | | | | | | | | | | | | | |
| 11 | | | | | 18m 40s | | | | | | | | | | | | | | | | | | | | | |
| 12 | | | | | 28m 1s | | | | | | | | | | | | | | | | | | | | | |
| 13 | | | | | 42m 1s | | | | | | | | | | | | | | | | | | | | | |
| 14 | | | | | 1h 3m 2s | | | | | | | | | | | | | | | | | | | | | |
| 15 | | | | | 1h 34m 34s | | | | | | | | | | | | | | | | | | | | | |
| 16 | | | | | | | | | | | | | | | | | | | | | | | | | | |
| 17 | | | | | | | | | | | | | | | | | | | | | | | | | | |
| 18 | | | | | | | | | | | | | | | | | | | | | | | | | | |
| 19 | | | | | | | | | | | | | | | | | | | | | | | | | | |
| 20 | | | | | | | | | | | | | | | | | | | | | | | | | | |
| 21 | | | | | | | | | | | | | | | | | | | | | | | | | | |
| 22 | | | | | | | | | | | | | | | | | | | | | | | | | | |
| 23 | | | | | | | | | | | | | | | | | | | | | | | | | | |
| 24 | | | | | | | | | | | | | | | | | | | | | | | | | | |
| 25 | | | | | | | | | | | | | | | | | | | | | | | | | | |
Time to Build
Edit
The time to build formula is:
$ t=(1-d)\cdot \frac { A }{ (r+1) } \cdot { e }^{ B\cdot l } $
with the following variables:
t = time [seconds]
d = Bonus Discount [%]
r = Robotics Facility Level
l = Upgrade Level
And the following constants
As derived from the following Equations:
Solve for B
$ B\quad =\quad \frac { \ln { \left( \frac { { t }_{ 2 }({ r }_{ 2 }+1)(1-{ d }_{ 1 }) }{ { t }_{ 1 }(1-{ d }_{ 2 })({ r }_{ 1 }+1) } \right) } }{ \left( { l }_{ 2 }-{ l }_{ 1 } \right) } $
And Solve for Constant A
$ A=\frac { t(r+1) }{ { e }^{ Bl }(1-d) } $
(Best Value as of Apr 25, 2014)
A = Constant = 71.2956607830762
B = Constant = 0.406140800737459