Light Fighter
Requirements
Points
4
Attributes
Strength
400
Shield
10
Attack
50
Speed
12500
Cargo capacity
50 units
Fuel usage
20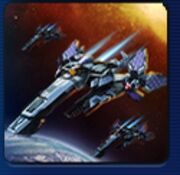 Light Fighters are used in the beginning stages of the game.
The Light Fighters only advantage is that it has a fast speed, however, Cruisers are faster, and have much better stats. 
Light Fighter is also the most agile ship in your arsenal.
The Light Fighter has the agility to quickly navigate between targets.
There is a cost for the Light Fighter having the agility to quickly navigate between targets and that is being lightly armored.
So be careful targeting powerful opponents with just Light Fighters.
Some players use these ships as "fodder", meaning their purpose is to absorb damage from an enemy fleet and therefore protecting stronger ships.
If facing one such enemy, it is suggested that you build Cruisers as they have a multiplier against Light Fighters and can destroy them with relative ease, provided a sufficient quantity is used.
Light Fighters are the only Combat Ships that are awarded for doing neb runs.
Building Requirements: Shipyard Level 1.
Tech Requirements: Combustion Drive Level 1.
Gas is not required to build this Light Fighter.
Costs to Build one Light Fighter

| Combat | | | Points |
| --- | --- | --- | --- |
| Light Fighter | 3000 | 1000 | 4 |
Concecutive rate attack

| Civil Ship | Rate |
| --- | --- |
| Probe consecutive attack rate | 5 |
| Solar Satellite consecutive rate | 5 |
Rapid fire

| Combat Ship | Rate |
| --- | --- |
| Rapid fire from Cruiser | - 6 |
Basic info for Light Fighter

| Item | Amount |
| --- | --- |
| Armor | 400 |
| Energy Shield | 10 |
| Attack | 50 |
| Speed | 12500 |
| Cargo Capacity | 50 Units |
| Fuel Usage (Gas) | 20 |