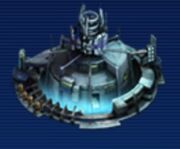 Details:
Edit
A Moon Base is the building that will allow you to increase the size of your moon.
The actual maximum size can be increased by upgrading the Moon Base.
Each Level that the Moon Base is upgraded will unlock 3 more upgrade spaces on the Moon.
Although every other lunar building can be demolished, the Moon Base is the only one that cannot.
Cost to Build:
Edit
| Moon Base Level | | | |
| --- | --- | --- | --- |
| Lvl 1 | 20K | 40K | 20K |
| Lvl 2 | 40K | 80K | 40K |
| Lvl 3 | 80K | 160K | 80K |
| Lvl 4 | 160K | 320K | 160K |
| Lvl 5 | 320K | 640K | 320K |
| Lvl 6 | 640k | 1.28M | 640K |
| Lvl 7 | 1.28M | 2.56M | 1.28M |
| Lvl 8 | 2.56M | 5.12M | 2.56M |
| Lvl 9 | 5.12M | 10.24M | 5.12M |
| Lvl 10 | 10.2M | 20.4M | 10.2M |
| Lvl 11 | 20.4M | 40.9M | 20.4M |
| Lvl 12 | 40.9M | 81.9M | 40.9M |
| Lvl 13 | 81.9M | 163M | 81.9M |
| Lvl 14 | 163M | 327M | 163M |
| Lvl 15 | 327M | 655M | 327M |
| Lvl 16 | 655M | 1.31B | 655M |