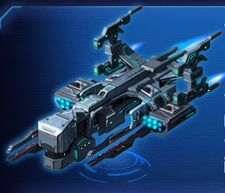 The Titanenergetic Frigate is a new Combat Ship as of April 5,2014.
Details:
[
]
In battles with your enemies from the Galaxy Challenge
The Titanenergetic Frigate an advanced battle ship built by fusing Titanenergetic Cube and Crystal Ore together. With its immense armor speciality it enables the commanders to fleet defenses to a new height.
3 days after battle of the Galaxy Challenge you will no longer be able to build these ships.
Building costs of Titanenergetic Frigate

| Combat Ships | | |
| --- | --- | --- |
| Titanenergetic Frigate | 3500 | 1000 |
Consecutive Rate Attack Civil Ships

| Civil Ships | Damage |
| --- | --- |
| Large Cargo Ship Dealt sustained damage | 15 |
Titanenergetic Frigate Base Information

| | |
| --- | --- |
| Armor (Strength) | 450000 |
| Energy Shield (Defense) | 3000 |
| Attack | 5000 |
| Speed | 4000 |
| Cargo Capacity  | 4000 Units |
| Fuel Usage (Gas) | 2500 |