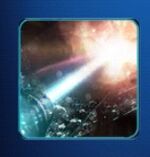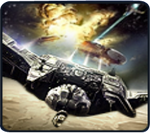 Researching advanced Weapons Tech will allow your Ships and fleets to engage high level targets and defend themselves from more powerful adversaries.
Each level that Weapons Tech is upgraded increases your attack by 10%.
Affects all Ships in each fleet under your command and colonies.

Building Requirements: Research Lab Level 4.
Gas is not required to upgrade advanced Weapons Tech.
Costs of Upgrade

| Level | | |
| --- | --- | --- |
| Level 1 | 800 | 200 |
| level 2 | 1600 | 400 |
| Level 3 | 3200 | 800 |
| Level 4 | 6400 | 1600 |
| Level 5 | 12800 | 3200 |
| Level 6 | 25600 | 6400 |
| Level 7 | 51200 | 12800 |
| Level 8 | 102K | 25600 |
| Level 9 | 204K | 51200 |
| Level 10 | 409K | 102K |
| Level 11 | 819K | 204K |
| Level 12 | 1.63M | 409K |
| Level 13 | 3.27M | 819K |
| Level 14 | 6.55M | 1.63M |
| Level 15 | 13.1M | 3.27M |
| Level 16 | 26.2M | 6.55M |
| Level 17 | 52.4M | 13.1M |
| Level 18 | 104.85M | 26.2M |
| Level 19 | 209.71M | 52.4M |
| Level 20 | 419.43M | 104.85M |
Research Time
Edit
Rows: Goal Technology Level 
Columns: Reaserch Lab Level
Result: Reaserch Time
Reaserch Time for each Technology Level (T) for each Reaserch Lab Level (L)

| | L1 | 2 | 3 | 4 | 5 | 6 | 7 | 8 | 9 | 10 | 11 | 12 | 13 | 14 | 15 | 16 | 17 | 18 | 19 | 20 | 21 | 22 | 23 | 24 | 25 |
| --- | --- | --- | --- | --- | --- | --- | --- | --- | --- | --- | --- | --- | --- | --- | --- | --- | --- | --- | --- | --- | --- | --- | --- | --- | --- |
| T1 | | | | 1m 30s | 1m 15s | | | | | | | | | | | | | | | | | | | | |
| 2 | | | | | | 2m 8s | | | | | | | | | | | | | | | | | | | |
| 3 | | | | | | 4m 17s | | | | | | | | | | | | | | | | | | | |
| 4 | | | | | | 8m 25s | | | | | | | | | | | | | | | | | | | |
| 5 | | 1h | 40m | | | 17m 8s | | | | | | | | | | | | | | | | | | | |
| 6 | | | | | | | | | | | | | | | | | | | | | | | | | |
| 7 | | | | | | | | | | | | | | | | | | | | | | | | | |
| 8 | | | | | | | | | | | | | | | | | | | | | | | | | |
| 9 | | | | | | | | | | | | | | | | | | | | | | | | | |
| 10 | | | | | | | | | | | | | | | | | | | | | | | | | |
| 11 | | | | | | | | | | | | | | | | | | | | | | | | | |
| 12 | | | | | | | | | | | | | | | | | | | | | | | | | |
| 13 | | | | | | | | | | | | | | | | | | | | | | | | | |
| 14 | | | | | | | | | | | | | | | | | | | | | | | | | |
| 15 | | | | | | | | | | | | | | | | | | | | | | | | | |
| 16 | | | | | | | | | | | | | | | | | | | | | | | | | |
| 17 | | | | | | | | | | | | | | | | | | | | | | | | | |
| 18 | | | | | | | | | | | | | | | | | | | | | | | | | |
| 19 | | | | | | | | | | | | | | | | | | | | | | | | | |
| 20 | | | | | | | | | | | | | | | | | | | | | | | | | |
| 21 | | | | | | | | | | | | | | | | | | | | | | | | | |
| 22 | | | | | | | | | | | | | | | | | | | | | | | | | |
| 23 | | | | | | | | | | | | | | | | | | | | | | | | | |
| 24 | | | | | | | | | | | | | | | | | | | | | | | | | |
| 25 | | | | | | | | | | | | | | | | | | | | | | | | | |
Time to Research
Edit
The time to build formula is: